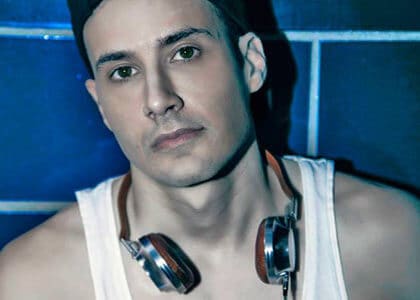 Gauthreaux Spins A Bangkok Fairy Tale
Joe Gauthreaux leads the pack of young DJ's, weaving tribal, EDM and progressive house with commercial vocal anthems.
Joe brings his own special brand of musical magic to Bangkok on 11th April when he headlines the Song Kran 2014 Fairy Tale Party.
Joe says his goal is to keep his sound fresh and the floor's momentum pumping.  "The worst thing a DJ can do is get stuck in a certain sound for too long," he says. "Music is constantly evolving. If you don't change with it, you'll get left behind.
It's why, six years ago, Joe Gauthreaux decided to dabble in production work. In that time, he's worked with some of the biggest dance artists in the business including Kristine W, Jeanie Tracy, and Tony Moran.
Last year, he made the leap from club to major artists, remixing for superstar acts like NeYo, The Wanted and even Justin Bieber.
"It was for 'Boyfriend', the first single from Justin's new album," Gauthreaux explains.  "At the time, nobody had heard his new direction. I was excited to have the opportunity to present his voice in a clubbier production. I think my favorite thing about that project is that I helped show people in the dance community that Justin's a real artist with talent and a great voice."
We googled Gauthreaux and only your name popped up!
That is so funny you say that. When I was choosing my stage name I thought about not using my real last name, which is French, because it's so complicated. But someone told me "Gauthreaux is gold" because of how unique it is. I'm really glad I stuck with it. I don't think I have to worry about another Gauthreaux coming up in the DJ scene.
So Joe, how many times have you played Thailand?
This will be my fourth year DJing this party.  I'm so excited! I love the Thai New Year.
What's your #1 song on the dance floor right now?
For me, it's Kylie Minogue's "Into the Blue".
Any chance you may be mix in the theme song from the 80's classic, "One Night in Bangkok" by Murray Head?
Wow, can you believe I never even thought to play that. My brain usually doesn't go to the obvious. Sometimes I wish it did.
How do you prepare for a set like FairyTale?
Mostly, I just try to play to the crowd and what they're feeling and what I'm feeling.  It's a give and take
How long have you been DJing?
Since the late 1990's...
How do you handle all of the fame and success?
I don't really think of myself as successful. I still think of myself as trying to make a name for myself.  That keeps me motivated every day.
What inspired you to become a DJ?
Music, of course, and wanting to entertain people and make them happy.
Is there a lot of pressure staying on top of your game?
There is!  It's pressure I put upon myself. But it's a good thing. You have to work hard if you want to rise up in life.
When did you begin producing your own records?
I began to produce in 2007. Producing music is a whole different animal than DJing but I have to say I am loving it more and more.
How long will you stay in Bangkok?
I'll be there for two days. My gig schedule doesn't allow me to stay as long as I'd like to.
What's next for you after Bangkok?
More parties. I'm also focusing on releasing my first single. Very, very excited about that!
Join the Travel Gay Newsletter
More Gay Travel News, Interviews and Features
The Best Tours In Bangkok
Browse a selection of tours in Bangkok from our partners with free cancellation 24 hours before your tour starts.
The best experiences in Bangkok for your trip