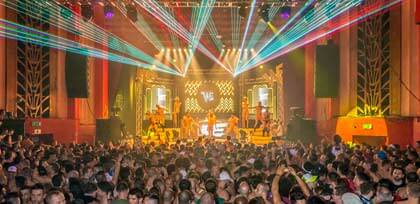 How to Survive Gay London
The London gay scene is so big that it is difficult to know where to start!
This is a city where something is happening every hour of everyday.  So, here are some ideas...
Old Compton Street
The first point of call for every gay visitor should be Soho.  Make sure you find Old Compton Street which is the gayest street in London.
It is in Soho that the London gay scene really took off in the early 1990's.  In fact, the development of the Soho gay scene is credited with transforming what was a decaying sex shop and prostitution area to one of London's most chic and trendy nightlife spots.
Soho bars and cafés start early, and they are busy by 7pm . If the weather is good, the best place to people-watch is Comptons, the oldest gay bar in Soho, Rupert Street or the Duke of Wellington.  Stand on the pavement with the smokers, a pint of beer in hand and watch the world go by.
If you just what a coffee, head for Cafe Nero, ideally located in the middle of Old Compton Street.  As the evening progresses, check out the stylish The Yard or Village Soho.
Later...
Some London bars stay open well into the night but may charge a small entrance fee if you arrive after 10pm.
Shop
In Soho, you will also find the major gay shops such as Prowler and CloneZone.  You can buy anything from rubber underwear to gay literature.  Most importantly, you can buy queue-jump tickets for many of the best gay dance parties.
Also look out for people in Soho giving out flyers for free or discounted entry for clubs or late-night bars.
Vauxhall - party central!
If you are a all-night person, don't miss Vauxhall.  Go there when Soho start closing down. Check out our London dance club listings for latest events, most of which start around midnight. The club nights at FiRE even later.  Beyond does not get busy until 6am on Sunday mornings!  Some venues only open at the weekend or public bank holidays, so check in advance.
Vauxhall is also home to another huge gay London institution, The Royal Vauxhall Tavern, home to legendary cabaret drag shows.
Further out, near London Bridge, is XXL.  This men only club is packed on Saturday nights.  It doesn't just attract bears.
Venture further out
Vauxhall and Soho are the top gay areas but make sure you visit some pubs and clubs in other areas in London. You are likely to meet fewer tourists and more genuine Londoners at the Two Brewers in Clapham.
The White Swan in Limehouse has a 'feel good' vibe and attracts the East End gay guys.
Time to sweat
The sauna scene in London is very busy with Friday nights, Saturday nights after around 10pm and all day Sunday the best time to go.
The most popular saunas are Sweatbox in Soho which is pretty busy on a Saturday afternoon as well and Chariots Vauxhall with a steady stream of guys all around the weekend.
Take a trip to the seaside
Finally, if it all becomes too much, take a break from city life, board a train and go to Brighton for the day or spend a night or two at one of the hotels near Kemptown gay village.  The city is also called "London By The Sea" with good reason.  It has a substantial gay population and offers sophisticated restaurants and trendy gay bars without the pressure and pace of London.
first published in 2014 - updated 2017
Join the Travel Gay Newsletter
More Gay Travel News, Interviews and Features
The Best Tours In London
Browse a selection of tours in London from our partners with free cancellation 24 hours before your tour starts.
The best experiences in London for your trip