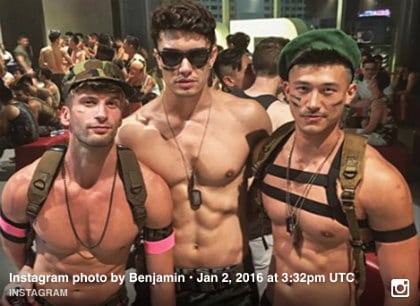 22 Reasons To Be In Bangkok For New Year's 2017
We've compiled some of the best moments captured by gay (or gay-friendly) Instagram users.
The world-renowned White Party gay circuit festival returns to Bangkok for the second round (from December 30, 2016 - January 1, 2017), to celebrate the New Year.
The holiday season is the best time to visit Bangkok. The weather is nice, and the city and gay scene are festive. If you're planning to visit, book your hotel early to get the best deals. Visit our Bangkok Hotels page for recommendations, and find out more about gay Bangkok.
"Be proud to share, wherever you go." Tag us in your travel photos with #travelgayasia to be featured on our News & Features page in the future.
If you're the owner of the photo and would like it to be removed, please let us know.
Join the Travel Gay Newsletter
More Gay Travel News, Interviews and Features
The Best Tours In Bangkok
Browse a selection of tours in Bangkok from our partners with free cancellation 24 hours before your tour starts.
The best experiences in Bangkok for your trip