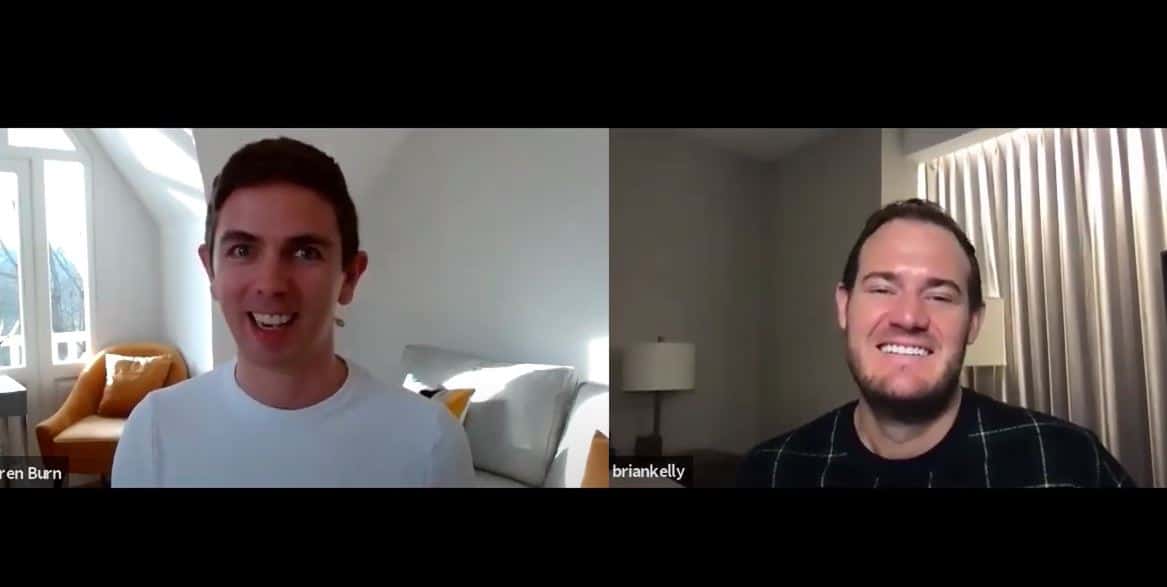 The Points Guy, Brian Kelly, on gay travel, LGBTQ+ refugees and the pandemic
Brian went on to transform his passion for air miles (free trips, basically!) into an empire.
Brian Kelly is also known as The Points Guy. His air miles journey began in 1996 when he was a child. His dad had built up air miles credits over the years and had no idea what to do with them. Brian figured out how to turn the air miles into a free trip to the Caribbean - a trip his family didn't think they could afford. It was quite an accomplishment for a kid. Brian went on to transform his passion for air miles (free trips, basically!) into an empire. He tells our Editor-in-Chief, Darren Burn, all about his journey.
From Pittsburgh to New York City
He grew up in Pittsburgh but always wanted to go to New York. Brian knew he was gay from a very young age, first realising when he saw a picture of New Kids On The Block. But even in a city like Pittsburgh, he didn't know a single out gay person when he was growing up.
When he launched his business in 2010, he decided to be open about his sexuality. "I realised that half of my audience is probably Republican or people who don't share the same views. I did think in the beginning, shall I just be in the closet? But that's not who I am. I think my blog took off is because I'm authentic. I'd show myself on trips, share my opinions and that's what people want. I've never met a single person who came out and then wished they'd gone back in the closet."
Traveling the world as a gay man
"Travel breaks down barriers. One of the reasons we've seen so much progress is open dialogue - when people see a gay man as not a threat." Brian does a lot of charity work in Africa. Although the anti-gay laws can be very draconian in African countries, he's gained a lot from exploring that part of the world.
Dubai has a thriving but hidden gay scene. In less liberal counties you often find things are more complex beneath the surface. "I've never had any issues, as long as I respected the culture. In general, governments may have rules but the day-to-day people in that country doesn't necessarily conform to them... You can sleep in a king bed in Maldives or Dubai with your partner." Discretion is key.
"A lot of travelers are naive and think the US is a rich government and that they will bail them out [if they get in trouble]. They actually won't usually, so I want to remind people that you cannot travel and assume that your embassy will get you out. You really do have to have your wits about you when you travel." Wise words!
Watch the full interview
Listen as a podcast
Rainbow Railroad in Jamaica and Chechnya
Rainbow Railroad is a charity with a global reach. They help LGBTQ+ people facing persecution in many different countries. Brian went to Jamaica to do some work with them and saw the reality of being LGBT+ in what is perceived as one of the Caribbean's most homophobic countries. It's one of the hardest places on earth to be gay, Brian says and as an outsider, he didn't feel under threat himself. Being a foreigner with money to spend and a return flight affords some privileges. The real challenge is for people who live in homophobic countries.
The situation in Chechnya is even worse. When Brian heard of gay concentration camps in Chechnya he initially thought it was a sensationalist headline. It proved to be all too real as more witnesses shared their accounts of the gay purge. "We can all do something. I started hosting some fundraisers and just raising awareness because I don't think even in the gay community people understood how bad it was. Rainbow Railroad is not just getting people out. It's about acclimatising them, getting them jobs and building community."
Brian pioneered the donation of airline miles to the charity to enable it to book refugees' plane tickets to escape adversity.
The future of travel after the coronavirus pandemic
So, when will travel pick up in a post-COVID world? "I think it's incredible that there are the vaccines already. Within the next several months, in the US specifically, most Americans will be vaccinated by the summer (2021). I do believe with advancements in technology, testing and the vaccine will open up travel. I think this summer will be open, to an extent. It's not going to be fully open borders though and I think summer 2022 is when travel will truly bounce back."
Brian highlights many advantages credit card users can get right now, especially in the USA. "It's just bonkers how much you can earn in points. The signup bonuses are huge. We're about to launch our app which is going to track all your points and then also provide the tools to use them. Because that's the big thing: a lot of people have points saved. Summer 2021 will coincide nicely with people thinking I need a trip and I have all these points so there's gonna be no better time to use them."
Brian Kelly's Bucket list
When travel comes back he wants to visit Machu Picchu, before it becomes overcrowded again. The Galapagos Islands and Ecuador are at the top of the list also. Brian cites Gay Oktoberfest in Munich as a must-see party experience. All those Germans and tourists in traditional dress drinking beer from 7am. What could go wrong?
Find out more about how to collect airline miles and points at The Points Guy.
Join the Travel Gay Newsletter
More Gay Travel News, Interviews and Features
The Best Tours In New York City
Browse a selection of tours in New York City from our partners with free cancellation 24 hours before your tour starts.
The best experiences in New York City for your trip