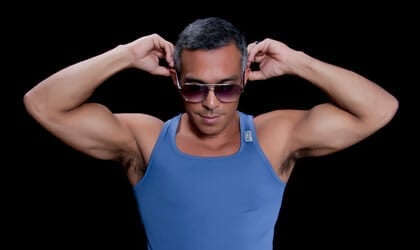 Tony's Not Coming Down!
Tony Moran is one of the most well known and highly respected DJs in the house music genre, regularly playing to massive gay audiences throughout the Asia.
So excitement will reach fever pitch when he takes to the decks at the closing party of high anticipated Song Kran 8 in Bangkok on the 13th April.
Song Kran 8 revelers will be among the first to hear his latest dance club production, "I'm Not Coming Down".  He collaborated with dance legend Martha Wash on it and is excited to debut it at the party.
Moran began his career in 1981 as half of the production team, "The Latin Rascals".  He helped write and produce "Show Me" for The Cover Girls, a song that became his first Top 40 gold record.
During his glittering career, he has worked with Rihanna, Mariah Carey, Madonna, Neyo, Cher, Kristine W, was nominated for two Grammys for his production of Gloria Estefan's "Don't Let This Moment End" and "Heaven's What I Feel" and produced major indie dance club hits including "Put Your Hands Up", "Cafe Con Alegria", and "The Promise".
It's great to see you working again with Martha Wash!
Martha Wash and I have been long time friends and collaborators. She played me a new song she had co-written. I recognized it from her latest album, SOMETHING GOOD and I could really see the personal attachment she had to it. It clearly shows that she is the master of her destiny.   I gave her no choice but to allow me to remix it.
Is this your first collaboration since "Keep Your Body Workin?"
Yes, and that was in 2007! We have done other things in the studio that we never quite finished.
"Keep Your Body Workin" reached #1 on Billboard.  Do you expect the same with "I'm Not Coming Down"?
I do. Actually "Keep Your Body Workin" was #1 at the end of 2007 and stayed at #1 for the first week of 2008. That was pretty awesome!
How has the club scene changed since then?
It has changed considerably, but that is not a bad thing. Dance music has separated into multi sub genres.  People have expanded their ideas on what a party and club experience can be. The scale of production that is invested to enhance the music and stimulate all of your senses is mindboggling. It is happening around the world.
When was the DJ at Songkran 6, I felt all the dreams I ever had of the perfect night come true. It's why I'm so glad to be participating in Songkran 8, because I can only imagine what they will have thought up for this.
You began your career back in the freestyle days of 1981.   Do you think freestyle will ever come back?
Yes. It will evolve, but the vibe that gave it that unique flavor will remain. I occasionally do some freestyle performances.  I was surprised when 8,000 people showed up at the last one in
Do you keep in touch with TKA, Sa-Fire, the Cover Girls or Lisette Melendez?
Yes!  All of them are doing and look great. The songs that they recorded have all become cult classics and they all continue to tour together, playing for huge crowds. They still have their moves and guess what? So do I! 
How have you managed to persevere in the ever-changing music industry for so long?
I do not force myself to change. I simply go with it.
What's next after Bangkok?
More music production and artist projects. I also sang a song for a legend of house music, Todd Terry. I was honored that he asked me to do it. We just finished the remixes for it and I plan to feature it at Songkran 8. It's called "Take It All The Way" and I'll be doing exactly that.
For more information on DJ Tony Moran web site.
Join the Travel Gay Newsletter
More Gay Travel News, Interviews and Features
The Best Tours In Bangkok
Browse a selection of tours in Bangkok from our partners with free cancellation 24 hours before your tour starts.
The best experiences in Bangkok for your trip