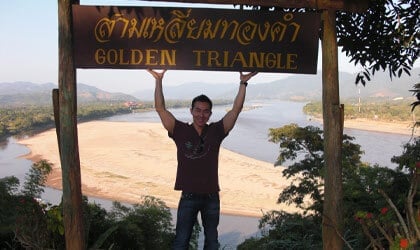 Two Weeks In Thailand
First trip to Thailand? Planning an itinerary can be a bit daunting. So, here is our suggested plan for a two-week stay in the Kingdom.
Our advice is break your trip into three parts. Explore Bangkok, experience the cultural north and then hit the beach in the south.
Before You Arrive
> Most visitors do not need to get a visa in advance. You are permitted to stay up to 30 days.
> English is widely spoken throughout Thailand, particularly in Bangkok and tourist destinations. Most gay Thais speak good English.
> Travelling around Thailand is easy. You will find English signs and instructions at airports, in taxis etc. It is best to book internal flights and hotels well in advance during peak season.
> Travel insurance is strongly recommended.
> Bring your own condoms and lube as the quality of products sold in Thailand can vary. Don't bring poppers as they are illegal.
> Read more gay Thailand travel tips in our free downloadable guide to Gay Bangkok - click here.
> Watch our "Exploring Gay Thailand" video.
Bangkok
Bangkok is the point of arrival and departure for most gay travelers.
Aim to spend at least two or three days in Bangkok to see the main sights, shop and experience the fun gay scene in and around Silom.
Try to arrive on a Friday as Bangkok's gay nightlife is best at the weekends. After dinner on Friday night, visit the Sky Bar @ Lebua for a quick drink and enjoy the amazing city views.

On Saturday visit The Grand Palace and Wat Pho, then head to the shops in the afternoon. Start at MBK then move on to Siam Paragon. After dinner head to Silom Soi 4 and 2 where gay nightlife gets going after 10pm.
You might want to sleep in on Sunday, but try to get to the Chatuchak Weekend Market. After a late lunch head to a gay sauna, such as Babylon Sauna or book a spa session followed by dinner and second night in the Silom gay bars.
When leaving Bangkok, remember to allow plenty of time to get from Bangkok city centre to airport.
Cultural North
Northern Thailand is a great place to experience Thai culture. The north is very accessible - just a one-hour flight from Bangkok.
Plan to spend at least three full days exploring Chiang Mai or Chiang Rai regions. Our favorite for culture and sightseeing is Chiang Rai as there is so much to see, although little or no gay nightlife.
The key sights in Chiang Rai include the stunning Wat Rong Khun temple, Doi Tung & Mae Fah Laung Garden, the Golden Triangle (where Laos, Myanmar and Thailand converge along the Mekong River). Don't forget to visit an Elephant camp and if you have time, pay a visit to the Long Neck tribe.  There are also numerous tea plantations open to the public for "sip and spit" tastings.

Hit the Beach
Now it's time to hit the beach. Thailand has a great choice of beaches and islands, but only some destinations have an established gay nightlife. So, your choice is likely to be influenced by how important a gay nightlife is to you.
Beach and gay nightlife in equal measure? Phuket
Beach and a few local gay bars? Samui
Not fussed about a gay nightlife? Krabi, Samui or resorts to the north or south of Phuket Island
Off the beaten track – Koh Samet is our favorite.
It's all about the guys - Pattaya
Phuket
Phuket is Thailand's largest island and has a huge choice of beaches and resorts to suit all budgets. Stay on the west coast, to the north or south or in Patong.
If you plan to hit the town most nights, then stay in Patong or a resort on Karon or Kata beach.  If you don't plan to go out every night in Patong, then the quieter and less developed beaches further north or to the south are worth considering. Avoid resorts and beaches on the East coast.
How to get there? Fly to Phuket International Airport. More about gay Phuket, here.
Koh Samui
Koh Samui has a great choice of resorts, excellent beaches and a relatively small gay scene in Chaweng.  The island is far less developed than Phuket, but there is still plenty to do and see on Samui. How to get there?  Fly to Samui airport. More about gay Koh Samui, here.
Krabi
Stunning coastline, plenty of nearby tropical islands to explore by long-tail boat and sandy beaches that are far less developed that nearby Phuket. Does not really have any gay scene, so it's a better for couples or groups who can make their own fun.  How to get there?  Fly to Krabi airport. More about Krabi here.

Koh Samet
Koh Samet is a gorgeous small island with fabulous white sandy beaches just a couple of hours drive from Bangkok. Ideal for those who want a great beach, crystal clear water and chilled-out nightlife vibe. Koh Samet even has one very gay-popular bar and beach. How to get there? Taxi or bus from Bangkok. More about gay Koh Samet, here.
Pattaya
Pattaya is big coastal city with long sandy beaches and an eye-popping gay nightlife that tends to attract 40+ single guys with money to spend. The long sandy beach plays second fiddle to the nightlife – you will either love it or hate it. How to get there? Taxi or bus from Bangkok. More about gay Pattaya, here.
Two Beaches?
These great two-center combinations have direct flight/ boat connections. A good option if you have a bit more time or choose to skip a visit to the north.
Phuket & Samui (fly)
Samui & Krabi (fly)
Phuket & Krabi  (boat connection)
Pattaya & Koh Samet (taxi)
Back to Bangkok
Your first couple of days in Bangkok will whet your appetite for a more time in the city. Aim to get back into Bangkok late Saturday afternoon. Party Saturday night, late breakfast on Sunday, followed by a trip to the shops to hunt for a last minute bargain. After lunch, one final trip to Babylon around 4pm before heading to the airport for your flight home.
Domestic Flights
Several airlines serve domestic flights in Thailand - AirAsia, Thai Airways, Nok Air, Thai Lion Air, Orient Thai. With the exception of Thai Airways (which depart from Suvarnabhumi Airport), all other domestic flights serve the Don Mueang International Airport. Book in advance during peak season, especially if you want the most convenient flight times.
When to Visit
Just Bangkok? Anytime.
The beach? November to April with January to early April being peak season.
Party? Bangkok on New Year's Eve or Thai New Year (SongKran) - mid-April.
last updated: April 2017
Join the Travel Gay Newsletter
More Gay Travel News, Interviews and Features
The Best Tours In Bangkok
Browse a selection of tours in Bangkok from our partners with free cancellation 24 hours before your tour starts.
The best experiences in Bangkok for your trip