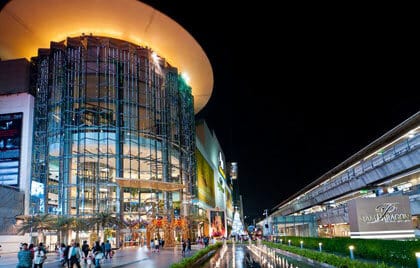 Shop 'Til You Drop In Bangkok
Visiting Bangkok? Then bring a spare suit case. You are going to need it as Bangkok is home to some of the biggest shopping malls in Asia.
Thailand has two competing mall operators – Central and the Mall Group. Nowhere is the competition fiercer than in downtown central Bangkok, where the flagship malls of both are located – separated only, and perhaps most fittingly, by a Thai temple. A strip of calm and quiet reflection between the competing giants.  
The Mall Group's Siam Paragon is the glitzier of the two, with a focus on high end European brands (Louis Vuitton, Prada etc), furniture and super-car showrooms, with Rolls Royce being the latest addition.
Across an open-air plaza complete with dazzling giant advertising screens is the recently refurbished, and now uber cool Siam Center, which is home to hip international street brands (such as Superdry), global sportswear brand flagship stores, together with local Thai fashion brands.
Linked by a skywalk, is the Central Group's vast CentralWorld – complete with two department stores and every high street retailer imaginable, its own outdoor plaza, and giant advertising screens.
Food, food & more food.
Food is a major feature of all malls and is a near constant draw for crowds of consumers from 10am to 10pm, 7 days a week. The choice is endless, from high end international supermarkets, to food courts and every conceivable type of restaurant – from McDonalds and Starbucks, through an array of Thai, Chinese, Korean and Japanese restaurants, from cheap and cheerful to expensive and elite.
Malls are not just for shopping.
Both major malls feature multi screen cinemas, gyms and event spaces. The large adjacent plazas often become venues for the more elaborate product launches and special events such as fashion shows. They are also the stage for some of the largest festival events in town – none more lavish, to say nothing of garish, than the annual Christmas displays which appear in mid November and stay until at least the end of January.
Royal Paragon Hall hosts everything from pop to Royal tribute concerts, and even played host to a Fatboy Slim gig a couple of years ago. Never to be upstaged, CentralWorld features a major hotel conference venue, and has hosted the largest (and some of the best) gCircuit gay dance parties held during Songkran, the Thai New Year.
It's all a far cry from a city like London where you instinctively head to different parts of the districts for different types of entertainment. I'm no way going to make a judgment on which is best. If you are coming to Bangkok, Singapore, or other major Asian cities from Europe, just leave your impression of what a mall is at home, along with your wool jumpers, and explore and enjoy the Asian mall experience.
Click here for full details including maps for all the main shopping malls in Bangkok.
Join the Travel Gay Newsletter
More Gay Travel News, Interviews and Features
The Best Tours In Bangkok
Browse a selection of tours in Bangkok from our partners with free cancellation 24 hours before your tour starts.
The best experiences in Bangkok for your trip